So it's Friday night. You are plopped on the couch, in your flannels, wearing your sleep support bra and night guard and eating Marshmallow Fluff from a jar—when you decide to give this Tinder thing a try.
Swiping . . . swiping . . . swiping . . .
You come across a busload of men who claim to be 45 but are clearly 65 or older. And being a woman "of a certain age" (aka at your sexual prime), you don't really feel like dating your father.
This Tinder business is bumming you out. You ram another spoonful of marshmallow into your mouth.
When all at once, you believe in God. Because you just matched with a hot 34-year-old dude. At first you don't notice he's 34, as you are overwhelmed by his darling face, rockin' bod, and cum gutters which, let's face it, are every female's kryptonite. Wow, this guy looks amazing for 65! But then you glance at his post-pubescent age and think, Shit. I probably babysat this kid when he was in diapers. Gross! This dude has mommy issues.
Another spoonful of Marshmallow Fluff followed by two Oreo cookies.
Suddenly another youngin' swipes onto your screen . . . then another . . . and another . . . whoops, there's a grandpa again . . . but now a 30-year-old!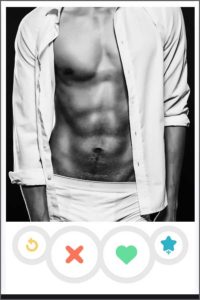 You are seduced by hard bodies, tight asses, and hairless chests (probably because their hair hasn't grown in yet), and, of course, the erudite literary overtures of "I like dating older women," "You're so hot," and "Age doesn't matter."
At first blush, you are happily surprised by the sheer number of younger men who've swiped right on you. You experience a glorious surge of the schoolgirl hormones that are so quickly evaporating from your midlife body. Wow! I must look really young. I guess I'm holding up well! Shit. I AM hot!
You wonder, But he's not within my preset age parameters. Well, darlin', you are within his. He's asking Tinder to send him women between the age of 40 and 55. Because, gals—this is a smart kid. He knows what he's going to get, and he wants it big-time.
In short, it's OK to hook up with a younger man. In fact, it's fabulous.
It's practically commonplace these days. Sure, they might call us "cougars." But who the fuck cares? Old dudes have been screwing younger chicks since the dawn of time. It's our turn on the playground! Time for us ladies to fuck a dude who still fills out his tighty-whities.
Note: Sometimes you will swipe on a dude who says he is 101 years old. Beware this dude. It's code that he is either 13, or 20 and doesn't want you to know he's a hooker.
But if you match a well-groomed 33-year-old dude, not surrounded by a bevy of strippers while holding a beer, and he respectfully asks you out (sans "Wazzup?" or any of the aforementioned dumb-ass lines)—you go, girl. Run, don't walk! You are going to get laid and made to scream like the chick in an Herbal Essence commercial—and he's bringing the shampoo.
He thinks you are wonderful because you are. Smart Boy knows you are at your sexual peak and in the prime of your life. He knows you are too busy running companies and countries to deal with any shit or drama.
He knows you are a woman-goddess—sexy as hell—and most likely rocking a G-string and push-up bra under the designer suit you bought for yourself.
He knows you have the most amazing collection of leather pumps and lingerie because you like to buy it, like to wear it, and don't have a lame-ass husband to ignore you when you do.
He knows that you know he loves to look at you in your lingerie. And that you will remove that lingerie one piece at a time . . . slowly . . . with the lights on. Because you can!
He knows you can get whatever you want and will do whatever you want—so if you want him, he's a lucky guy—because you gave birth, went through a divorce, raised two kids, and managed to keep your shit together through it all.
Plus, Cindy Crawford is 50!
So go for it, my rebellious, wild, wiser-than-30 friends.
After all, they say that cougar is the new mink.
Swipe on!
Save
Save